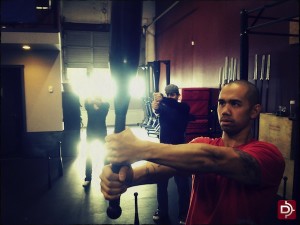 The Clubbell Evolution training programs I created are not simply "fitness offerings". Neither are they simply clubbell programs. They were never meant to be. They were an outpouring of my heart into a dynamic "vehicle" to support you in igniting your Life Evolution. Serving to connect you to ever deepening layers of your mind, body and soul (as cliche as that may sound), that you find and bring forth the expression of that which resides in yours… your heart.
So I am happy to offer this:
this season as you make the leap to dive into those depths, and draw from your "fitness" the greater meaning and impact it can have on your life.
---
"Well, the end has come. What a great program, Shane! I thoroughly enjoyed every step. It is so intelligently designed for body and mind. The mantras keep me on track, keep me focused. The warm-ups and cool downs compliment the specific exercises of each cycle. The flow of Clubbell training is just plain fun and exciting! I always look forward to my workouts. And as such, I'm a bit sad that Clubbell Mass Evolution is finished. But now I'm on to the next step of learning more…"
~ Sarah D., Canada ~
---
"It is very simple to follow. It's plug and play, and there is no guesswork involved. You just follow the program and do the work when you're supposed to. No need to figure anything out or customize your program. It's action-oriented.
And it is, without question, one of the highest quality products and best values that I've seen in awhile. Explicit attention to detail has been paid to every aspect of this product and Shane went above-and-beyond the status quo in terms of professionalism and overall product quality. The Clubbell Mass Evolution is so good that it leaves me wishing there was more. If we can expect programs of this caliber in the future, then I'm definitely looking forward to the next one!"
~ John S., US ~
---
"Just wanted to say… oh, how I love Clubbell Evolution. Thank you shane for giving this to the world. I have spent my whole life not liking exercise and now, just past my half century, I absolutely love it. I really am reaping the benefits. It's amazing to feel so alive and centered whilst getting in shape at the same time. Your programme certainly delivers all it promises and more! Wow! Getting that flow on!!! (can't wait to do the Hero thing!)"
~ Debra B., UK ~
---
"Shane, has anyone told you lately you're a training genius? I feel like I am reconnecting the toes to the fingertips in a way I have not done since the last time I was in a half pipe on a skateboard about 20 years ago. It's tough being 44, the proverbial lost step is not fiction. Finding my current abilities is a lot of fun though, and this program, the Clubbell Flow Evolution, of all your programs (I have them all), is really helping me find out what I can do and what I need to be mindful of."
~ Sam C., US ~
---
"Your program rocks!!!! I went from 13.7% body fat to 10%, I am stronger than ever, my vo2 went from 43 to 56, and I put on 5 lbs lean muscle while dropping fat! I have to try Hero Evolution next!"
~ Scott R., US ~
---
"Almost ready to start Phase 2 of HHM [Hurricane Healing Mobility]. My wife is doing it too!!!!! She says she has much less tension in her shoulders and upper back, and more spring in her step, not "trudging" as before. She hasn't missed a day! Excited for her to start Phase 2! Thanks Shane, for making clubbells so accessible!"
~ Peter R., US ~
---
"Three of the things I have learnt doing CBME [Clubbell Mass Evolution]:
1) The Parry Cast is a cool move. Also, it is the one move for me that really sets Clubbell training apart from other weight training. It's like a ballet move. It's a place of rest and resetting. There's nothing at the gym that comes close to this.
2) Humility comes into play. I expect to be lifting heavier weights but CBME keeps reminding me to go with the flow, stick to good form and gradually progress.
3) Due to stress at work, I skipped my routine for 3 weeks. I started again last night. If you can trick your brain in any way, just try to keep going with the routine regardless of what the world throws at you. Doing CBME has a more positive affect on that stress than not doing it. Thanks Shane!"
~ Michael V., Australia ~
---
"Started my first CBFE [Clubbell Flow Evolution] cycle with Hurricane Healing Mobility. Thought I wouldn't get a workout with the same levels of intensity like my last training cycle. Boy, was I wrong. Between the end of the first set and start of the second set, I'm creeping towards the higher end of my Moderate Intensity. Looking forward to the High Intensity next! Definitely going to see this through and not worry about if I'm going to lose my strength gains (from last training) or if I'm not reaching towards my fat loss goals. FFE [Flow Force Endurance] and CS [Cyclone Strength] will be there after I reach the end of my HHM journey. Thanks Shane Heins for making a fantastic product! Training for life!"
~ Najib N., Singapore ~
---
Dare To Evolve!
Shane.