This last spring/summer, I had revisited one of the programs I created, the Clubbell Hero Evolution.
I'd begun writing the process of the program, sharing my notes on its application to my training as an example and a window into how it works. In the end, continuing to do so here with you, fell by the wayside for a bit. But I'm going to now finish following through on that, as it is still very fresh and there are quite a few of you currently working through this program yourselves.
Moving from Release (which I covered at length in Post #1 and Post #2 associated with Month 1 of this program), into building the foundation of Strength.
Strength comes next in walking this Hero's journey. Having just gone through a major phase of
releasing that which has been weighing us down
releasing that which no longer serves us
accepting where we are at
accepting the path that lays before us
we then move into revisiting our foundation. We've just finished letting pieces of it go, which had been a part of forming the base we previously stood upon, some of which may have been pretty major chunks. We need to find our strength and stability at this newly re-calibrated baseline. The re-forging of the platform from which we expand out from.
As with all Dare To Evolve® programs, the physical fitness serves as the "vehicle" for developing our inner qualities/gifts, supporting the process and tapping into our utmost capacity. Below are my focus's for Cycle 2, the Strength Cycle:
Again, my goal over the 4 months was, being completely detached from the overwhelming 'weight' of what comes next, to leap at my daily tasks with unrestrained conviction.
The goal remains the same throughout the duration of the program so as to give us adequate time to face it and learn how to overcome the challenges we stumble over when faced with it. If we change it too quickly, all we do is bring ourselves to its starting point before moving on, without working through the aspect of it that brings us to a grinding halt when trying to achieve it. Where the shifts throughout come are in the associated Hero and Quality/Virtue attached to the specific focus of the given cycle.
My Hero for this cycle was Jean Valjean (main character from "Les Miserables").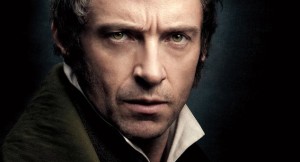 Heroes come in all shapes and sizes. They come from all walks of life. Some are real, some are fictional. But all speak to the essence of the human condition, which is made up of our physical, mental, emotional and spiritual aspects (which we tend to separate) all wrapped into one. While the Heroes may change, the process of struggle, discovery, growth and expression does not. While some may come from a fictional world, their examples are very real. And depending on where we are at in our lives, the qualities being expressed by specific ones will have immense impact on our own endeavours to connect to the same. So never judge who your "Hero" for a given cycle is. For the one who stands out is merely a reflection of the Hero in you trying to step out before you. Always easier to see it in others than in ourselves.
Through Jean Valjean, I connect to the strength it took him to value who he truly was and embrace that he had lived a meaningful life.
My Quality/Virtue for this cycle was Service.
I chose Service because it is one thing to say: "This is who I am. This is what I do. This is the value I bring." It is quite another for who I am, what I do and what value I may bring, to be truly expressed. And that can only honestly be seen when expressed through our actions towards others. The whole driving purpose behind my work with Dare To Evolve® is to be of service to all who come in contact with it, in igniting and supporting their Life Evolution. That we be connected to the meaning and value of our lives, ensuring the impact we make in them.
To serve our own self interest is not that difficult. To be of Service to others outside ourselves (no matter how close to home or how far abroad, no matter how "small" or grand in scale) takes immense strength. It is indeed the very definition of a Hero.
"Hang on Shane. Wouldn't doing all this to support MY personal evolution, MY Life Evolution, MY fitness, MY growth, reaching MY greatest capacity be serving my own self interest?"
Nope. Because if you are daring to dig deep and facing that path which is required to truly evolve your life, you are generating a force so powerful that it will do nothing BUT impact the lives of those around you. It will imbue you with ever rising reserves of energy that eventually overflow to be shared with each and every life you touch. You will develop the STRENGTH to live the life you were meant to live.
A life of meaning. A life of value.
The life… of the Hero within.
Dare To Evolve,
Shane.